TENDO

POWER ANALYSER
COMPUTER SOFTWARE
Get the maximum out of your Tendo Unit.
Interface
Tendo
Unit with your computer.
A go-to choice of professional trainers and pro teams, university teams and research centres.
Get all you need to know about each and every rep, automatically estimate 1RM, review past performances, identify strengths and weaknesses and use the data to guide your future training.

Tendo Power Analyser computer software offers two modes you can work from:
ONLINE
and
OFFLINE
Set. Train. Collect.
Automatise your training and testing, and get graphical representations of athletic performances.
Create your own database.
Athletes' profiles, groups, exercise lists, the choice is yours. Organise your data for effortless data collection and even smoother data analysis.
NEW! Now, including pictures for quick and easy search and selection.
Change microcomputer settings directly from your computer.
There is no need to set the microcomputer manually anymore. The program settings are automatically synchronised with the microcomputer, and vice versa. Plus, you can see any parameter of your choice independently of the microcomputer settings. Giving you the full control over your Tendo Unit and the training.
NEW! 
Automatic estimation of training load. 
Based on your training goal, set your minimal training velocity. The system automatically calculates your training load for the day while taking into account your day to day performance fluctuation. This way, you will cut on your recovery time and get the desired results faster than ever.
NEW! 
Velocity Based Training mode.
Just set your Target Velocity and easily reach your specific training goal targeted by VBT. Tendo Unit will automatically signalise you whether you are keeping up with the prescribed Target Velocity Range or your movement is too fast or too slow.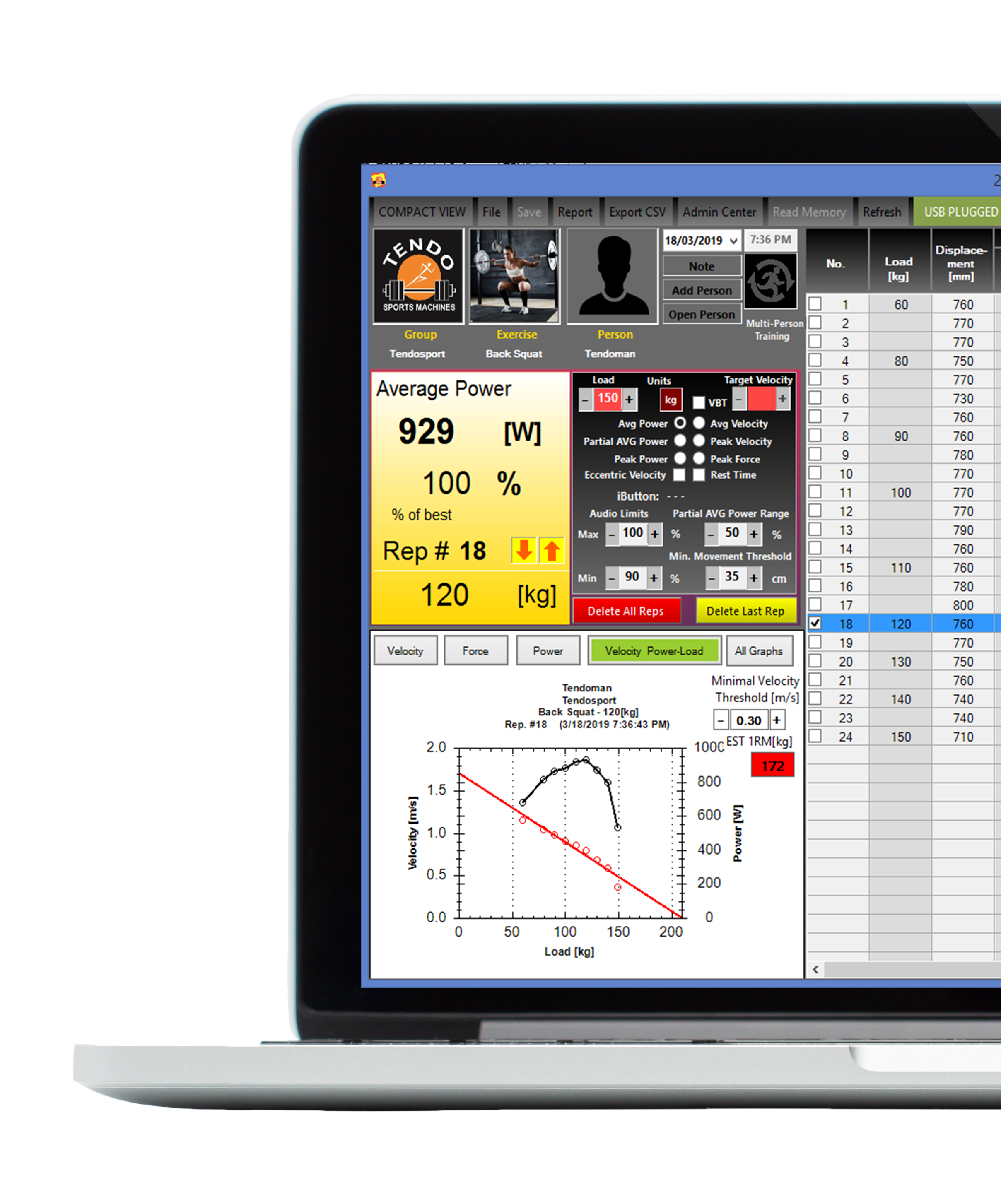 Spot performance patterns immediately.
Get instant visual feedback about each and every rep in one place.
Is the athlete underperforming, or is he or she able to keep up with the prescribed training range? Is the athlete performing each repetition with maximum effort?
By seeing visual representations of each rep via graphs and tables and all data at the same time, you will be able to see what's happening right away and guide your athletes accordingly.
NEW! 
Do your athletes need an extra dose of motivation?
Use live

Leaderboards

– our instant ranking system. 
Get an immediate comparison of your athletes. Filter out the results by Power, Velocity or Force.
Project the program window onto a big screen and share the results of the training and testing with the whole team. The challenge for the best performance will be on!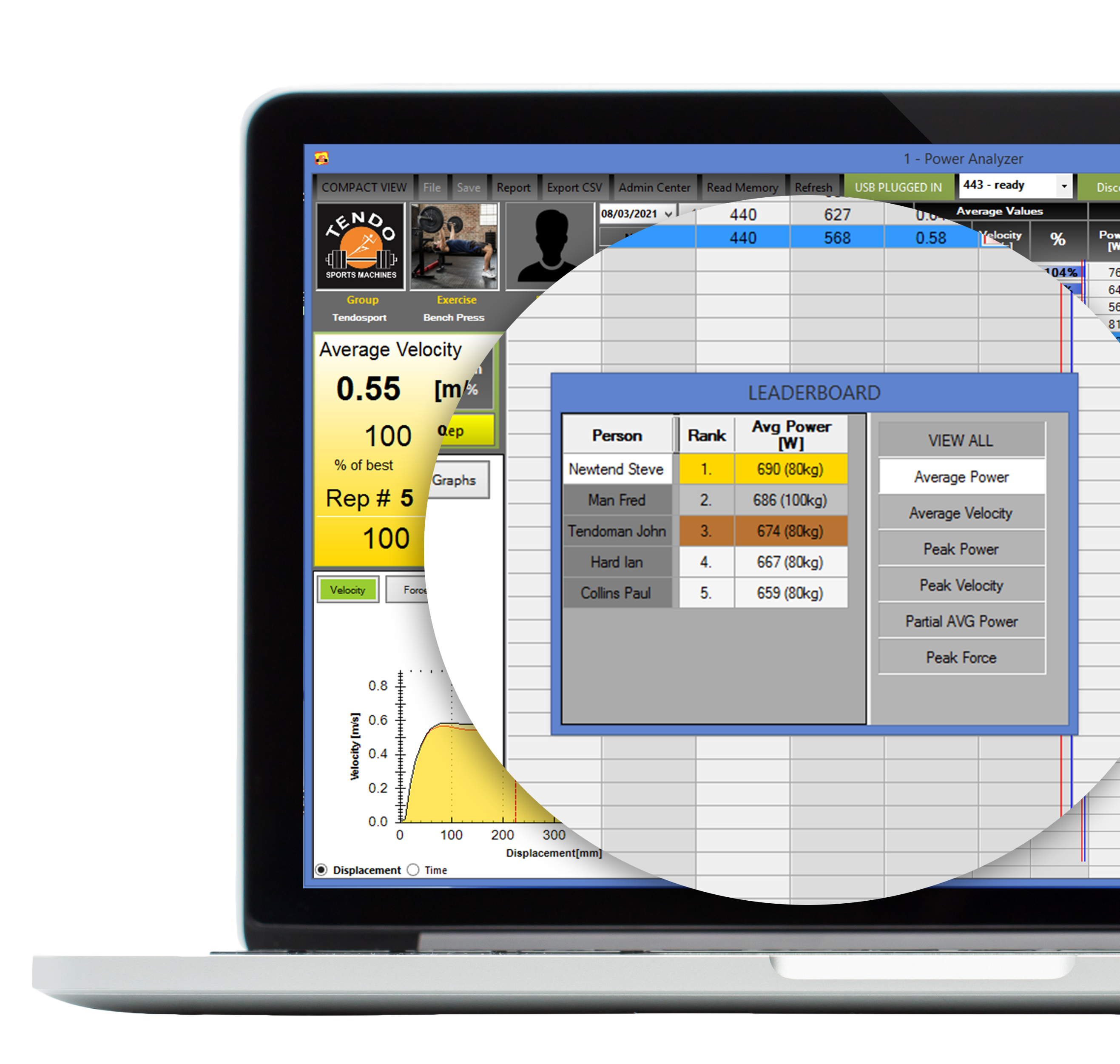 NEW! 
Are you training on one workstation with a group of athletes? No Problem.
Use Multi-Person Training mode

.
Multi-Person Training mode allows you to change an athlete after each exercise set and later recall his or her previous results from the training to continue with the exercise set where it was left off previously. This way even if you interchange athletes after each set, all athlete's data will be saved as one training, not as multiple small separate sets.


Manage multiple workstations at the same time.
Collect data from several different Tendo Units.
Would you like to train with multiple groups or multiple workstations performing different exercises?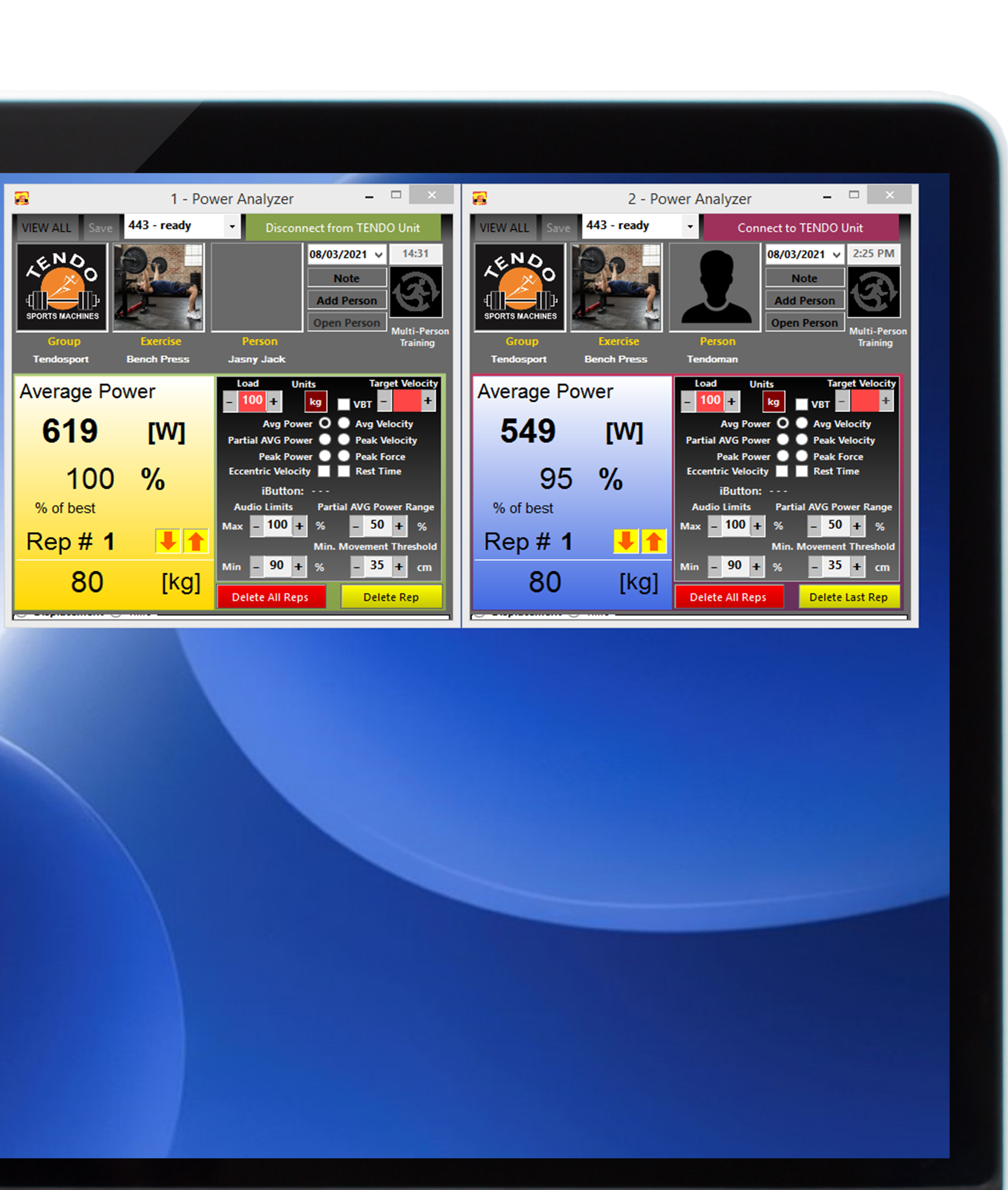 Just connect all Tendo Units to your computer, set the Tendo Units from your computer and the data from all workstations will be recorded and saved to the same computer. There is no need to run around the weight room and attend to each Tendo Unit separately. The computer program will multitask for you, leaving you worry-free and saving you the time to focus on your coaching.
Manage
as many Tendo Units as you want
with a single computer!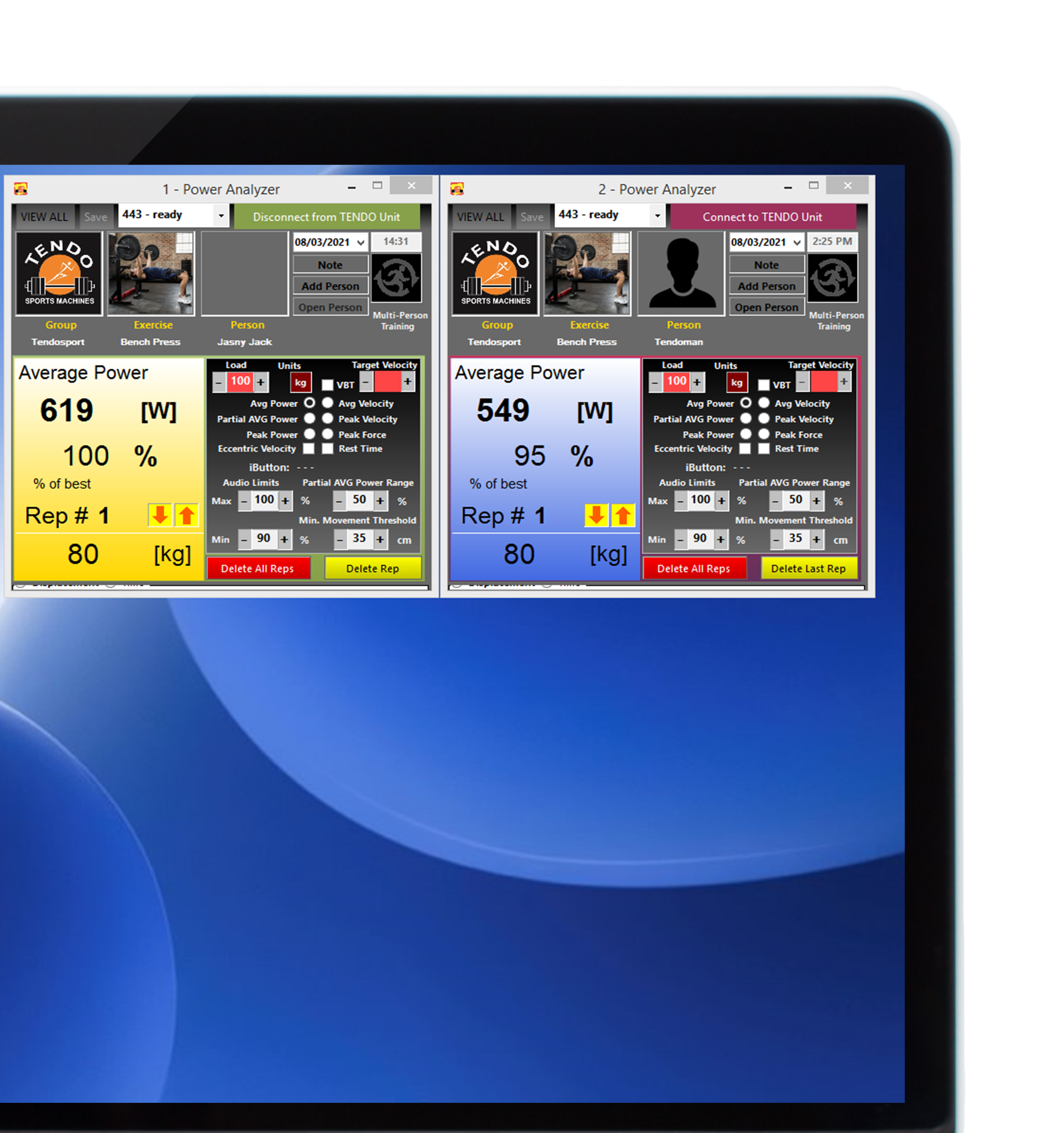 NEW! 
Automatise your training and testing.
Use

iButton

. The automatic athlete recognition.
Assign an iButton chip to an athlete. Each time the athlete touches the iButton reader, the program recognises the athlete and data are recorded and saved under the athlete's name. With iButtons, you will no longer have to select each athlete from the database manually.
Testing and training a large number of athletes has never been so quick and easy!
Just set the training or test and let the computer do the rest for you.
Save and Review the collected data.
Identify strengths and weaknesses, and take the improvement into your own hands.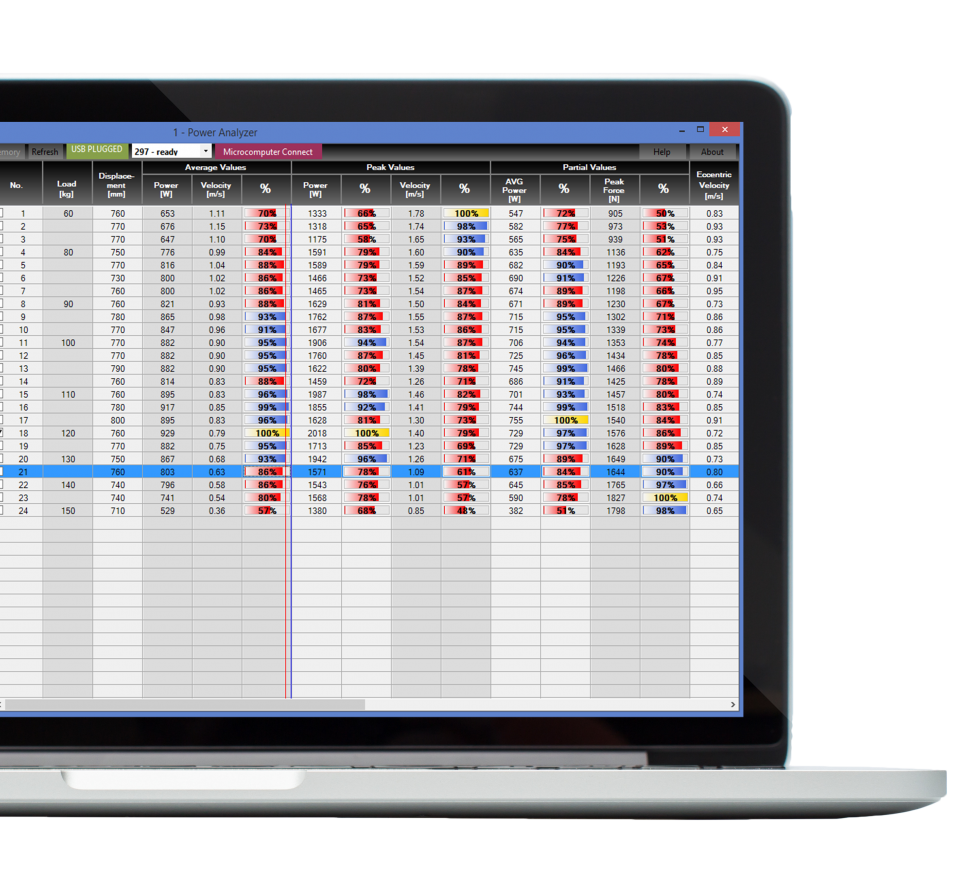 Tables.
Provide a numerical summary of the exercise sets with colourful distinction, indicating how well a particular rep was performed and whether the athlete kept up with the training range. Allowing you to spot performance patterns immediately and to adjust future training accordingly.
Graphs.
Get every single detail about each and every rep and instant comparisons of any chosen rep with an athlete's maximum in the exercise set. Individual graphs for Velocity, Power, Force and Velocity-Power Load Profile are included. Allowing you to identify exact places for improvement and to guide your athlete with bespoke feedback.
Open multiple files and create any combination to compare two or more independent measurements (e.g. before and after the new training program, left vs right leg, athlete A vs athlete B, … ).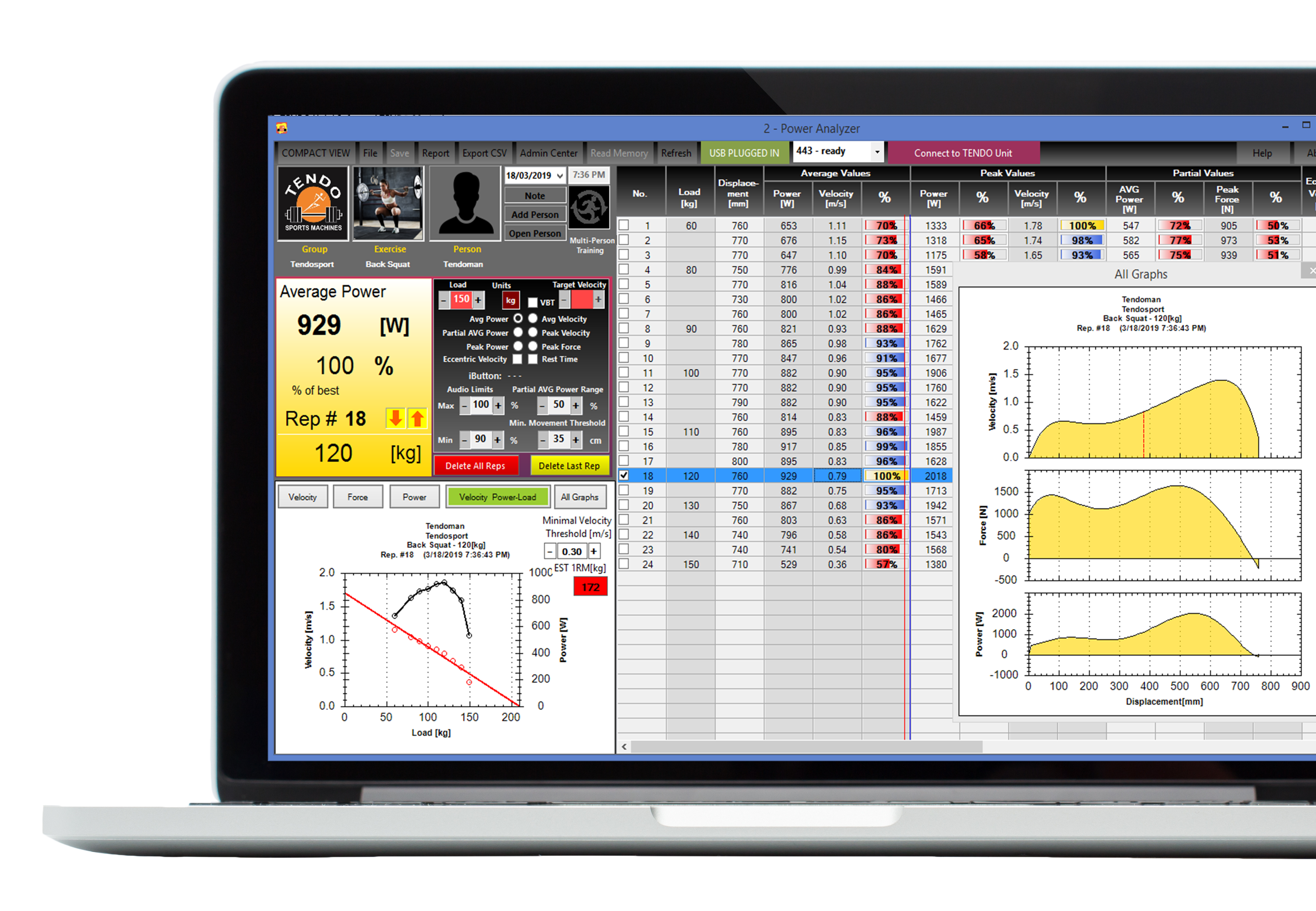 Export data in .xls
Manage all your data as an excel spreadsheet, whether of a single workout/test or to monitor athletes' progress.
No yearly subscription.
Once purchased, use it forever. Plus, we always thrive to make things better. We release updates regularly to make your experience with TENDO products as pleasant as possible. Only what you need is Tendo Bluetooth, the wireless connection to the computer.
SHOP
Get the maximum out of your Tendo Unit.
Interface your Tendo Unit with your computer via Tendo Bluetooth Set.
Shop TENDO Bluetooth Set now »
SOFTWARE UPDATES

Enhance your TENDO Unit experience.
Download the latest Tendo Power Analyser Computer Software.